---
---
Taxonomy and description
Park and Ride is a system that allows current private transport users to go to a large car park, where they can park their vehicle and catch a form of public transport. In the majority of cases this occurs outside of a city centre and is designed to relieve road congestion along the roads leading into the centre and at the same time reduce the amount of environmental externalities generated. The term park and ride tends to be synonymous with a car park served by buses but can also be used to describe car parks served by light rail and suburban rail services.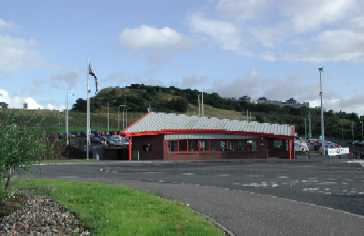 Figure 1: Park and Ride Station
Terminology
The term "Park and Ride" refers to the ability of the driver to park their car on the Park and Ride car park and then ride the public transport into town. Another extension of the park and ride genre is "kiss and ride" by which a traveller is "dropped off" at the park and ride facility by a family member or friend. 'Kiss and ride' reduces the need for car parking but could create significant extra traffic if four car journeys are made for one return journey.
Types of Park and Ride
Variations in park and ride can include the variety of public transport being used to take the people to their destination. Buses are most common; however there are cases of coaches, trains and light rail being used. Another variation would be the amount of stops available i.e. does the bus travel direct to town, or does it pick people up along the way. Some sites may even operate both
There can also be variation when it comes to the charge. Some park and ride schemes provide free parking and then charge for the public transport trip, whilst others charge for parking and provide the public transport trip free of charge.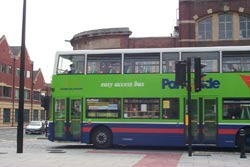 Figure 2: Nottingham Park and Ride
The dedicated bus services tend to consist of modern low floor branded buses but this is not always the case. They also operate a high frequency of service throughout the day, especially during the am and pm peaks.
Technology
Technology of Park and Ride can refer to the system used when paying for the ride. This could involve the introduction of pre-paid passes, so that everybody doesn't have to bring change with them every time. Many Park and Ride sites use electronic signs to tell travellers how far it is to the nearest site and to provide real time service displays. Storage can also be an issue. Lockers can be provided to passengers so that they don't have to carry everything around with them all day before they return. There may also be facilities for cyclists such as lockers and Sheffield stands (standard freestanding cycle parking) and safe safe access routes.
---
---