Overview
Key facts
Start date
September 2018
Fees
UK/EU fees: £8,500 (total)
International fees: £19,500 (total)
Online application code
MSC-TRN/SST
Duration of MSc
12 months full time
24 months part time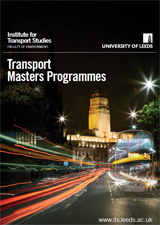 If you are passionate about solving the grand transport challenges of our time – with benefits for climate change, pollution, urban congestion, mobility, economic growth development, liveable cities, social justice and energy scarcity – then our Sustainability in Transport MSc will inspire and equip you to tackle these issues.
97% of our graduates find employment in a professional or managerial role, or continue with further studies.*
Whatever your background, this course will fire your imagination and expand your horizons.
You could be a social or political scientist, a geographer, philosopher, or law graduate, or an engineering or science graduate with an interest in environmental and social issues. What's most important is that you thrive on critical thinking and have a willingness to move outside disciplinary comfort zones. You will:
Study a range of modules from shaping future transport systems, environmental science, sustainable transport and environmental policy and governance through to investigating the links between transport and climate change, the environment and economic development.
Develop the management skills to lead strategic reviews of transport policy.
Undertake strategic assessments and reviews of transport and environmental policies.
Be taught by internationally renowned academics from the Institute for Transport Studies and the School of Earth and Environment. Their work is developing sustainable solutions in transport and beyond.
Gain industry-specific skills for access to a fast expanding employment market.
Have a choice of modules including gaining leadership skills to effectively chair visioning workshops, stakeholder engagement events, strategy meetings, and make persuasive presentations to policy makers.
And experience what it is like to be part of a project team working across disciplinary boundaries within the transport sector. Through this, gain insights into how planning, economics, environmental science, modelling and engineering can work together to develop sustainable solutions to global challenges. This practical approach will enable you to apply your knowledge to real-world issues in sustainable mobility and transport systems.
Your colleagues will be among the best and brightest from the UK and across the globe. Together you will develop the strategic vision needed to help you design transport solutions founded on sustainable and equitable principles.
ITS – the global institute teaching the transport leaders of tomorrow.
*Higher Education Statistics Agency (HESA), Latest Destinations of Leavers from Higher Education (DLHE), www.hesa.ac.uk
Student Profile
"The discussions that emerged during our lectures were interesting and forced us to look at our own of opinions of transport and at times re-evaluate them."
Marc Fialkoff, MSc Sustainability (Transport)
We have redesigned our suites of courses following close consultation with industry and academia.
With a strong focus on practical application, our degrees will prepare you for employment in your chosen field. They will also address the multi-disciplinary nature of transport – enabling you to make effective decisions for clients, employers and society.
And to experience what it's really like to work in the sustainable transport sector, collaborate with a project team of students from our other degrees through our new Transport Integrated Project module.
The programme leader is Dr Caroline Mullen.
Research environment
The Institute for Transport Studies (ITS) was established as the UK's first multi-disciplinary transport department, and we continue to lead the field with our research.
Our reputation allows us to invest in world-class facilities, such as the University of Leeds Driving Simulator – one of the most sophisticated in any university in the world, allowing us to research driver behaviour in controlled lab conditions. We also have access to a variety of specialist software tools including those we've developed in-house such as SATURN, PLUTO, DRACULA, MARS and KonSULT.
You'll also be supported by the Sustainability Research Centre (SRC), an interdisciplinary centre for cutting-edge research in this dynamic field. SRC works with partners and funders such as Marks & Spencer and Asda to address key challenges facing businesses and governments alike.
Other study options
This programme is available part time over 24 or 36 months. We are flexible as to how you choose to study this course so that you can combine it with other commitments, such as an existing job.
Please get in touch with our admissions team to discuss part time study options.
You can also study this subject at Postgraduate Diploma level, part time or full time, or at Postgraduate Certificate level with our PGCert in Transport Studies.
---
Student profile
"Each day you realise how important the things you are learning about really are. In fact, I believe sustainability in transport is one of the main challenges that today's society needs to address."
Jorge León Bello, MSc Sustainability (Transport)
Course terms and conditions
Course content
Alongside specialist modules, study common modules that will address key issues in sustainable transport. These provide you with a holistic overview of transport problems and approaches to policy formulation.
Our new Transport Integrated Project module enables you to employ project management scenario-based learning. You will cover a range of transport disciplines and be supervised by experts in the field. Join forces with a project team of other students from our other degrees to develop a solution to a 'real-world' transport problem, identifying how your own interests need to collaborate with others to achieve an effective solution.
You'll gain a range of specialist knowledge and advanced research skills throughout the programme. In your dissertation, you'll apply these to a project chosen from a wide range of topics. Some topics are suggested and supported by industry, giving you the chance to address a real-world problem and gain experience of working with industry. Your supervisor will support you throughout the process of developing your dissertation topic.
If you choose to study part-time, you'll study over a longer period and take fewer modules in each year. The part-time programme is flexible – the quickest route takes 24 months, but you can take up to 36 months if you choose to spend longer working on your dissertation.
Course structure
These are typical modules/components studied and may change from time to time. Read more in our Terms and conditions.
Compulsory modules
Environmental Policy and Governance

15 credits

Environmental Science and Sustainability for Transport

15 credits

Shaping Future Transport Systems

15 credits

Transport Data Collection and Analysis

15 credits

Transport Dissertation

60 credits

Transport Integrated Project

15 credits
Optional modules
Critical Perspectives in Environment and Development

15 credits

Climate Change: Impacts and Adaptation

15 credits

Climate Change Mitigation

15 credits

Tools and Techniques in Ecological Economics

15 credits

Sustainable Spatial Planning and Analysis

15 credits

Green Logistics

15 credits

Analysing Transport and Society

15 credits

Public Transport Planning and Management

15 credits

System Dynamics: Modelling Policy

15 credits

Traffic Management

15 credits

Global Transferability of Policies, Models and Methods

15 credits

Transport and Public Health

15 credits

Transport Investment Appraisal

15 credits

Transport and Urban Pollution

15 credits

Transport in Development

15 credits

Road Safety Management

15 credits
Learning and teaching
Postgraduate study involves a range of teaching methods, supported by independent learning. In addition to the traditional lecture and seminar formats, you'll experience a blend of workshops, computer exercises, practical sessions, directed reading, reflective journal, student-led discussions, fieldwork and tutorials.
Assessment
Assessment is equally varied and can include coursework essays, case-study reports, group assignments, posters, presentations and exams.
Applying, fees and funding
Entry requirements
A bachelor degree with a 2:1 (hons) in a relevant subject such as geography, town planning, earth and environment, architecture, sustainability, logistics, business and management, psychology, social policy, history, politics or public administration.
Graduates from other disciplines and those with professional qualifications plus experience in the sector will also be considered.
We accept a range of international equivalent qualifications. For information contact the ITS admissions team.
English language requirements
IELTS 6.5 overall, with no less than 6.0 in any component. For other English qualifications, read
English language equivalent qualifications
.

Improve your English
International students who do not meet the English language requirements for this programme may be able to study our postgraduate pre-sessional English course, to help improve your English language level.

This pre-sessional course is designed with a progression route to your degree programme and you'll learn academic English in the context of your subject area. To find out more, read Language for Science (6 weeks) and Language for Science: General Science (10 weeks).

If you need to study for longer than 10 weeks, read more about our postgraduate pre-sessional English course.
How to apply
Application deadlines
We don't have a specific application deadline, but we recommend you apply as early as possible, especially if you are hoping to apply for a scholarship.
This link takes you to information on applying for taught programmes and to the University's online application system.

If you're unsure about the application process, contact the admissions team for help.
Read Institute for Transport Studies advice on how to apply.
Admissions policy
Faculty of Environment Postgraduate Admissions Policy 2018
Visas and immigration
Read about visas, immigration and other information in International students. We recommend that international students apply as early as possible to ensure that they have time to apply for their visa.
Admissions policy
Link to admissions policy document
Fees
UK/EU fees: £8,500 (total)
International fees: £19,500 (total)
Read more about paying fees and charges.
For fees information for international taught postgraduate students, read Masters fees.
Part-time fees are normally calculated based on the number of credits you study in a year compared to the equivalent full-time course. For example, if you study half the course credits in a year, you will pay half the full-time course fees for that year.
Additional cost information
Students wishing to attend the optional European Field Trip are advised to allow a minimum of £500 for accommodation and travel during the week-long trip.
There may be additional costs related to your course or programme of study, or related to being a student at the University of Leeds. Read more about additional costs
Scholarships and financial support
The Institute for Transport Studies offers a range of scholarships for UK, EU and International students.
Find out more about our Scholarships.
Career opportunities
Links with industry
ITS has close working relationships with a number of organisations and many employers visit ITS each year to interview our students for graduate schemes and other vacancies. ITS also regularly circulates specific job vacancies to students.
Our students are highly sought after and have a good reputation with transport consultants, and may receive a job offer before or shortly after graduation.
The organisations that have advertised and/or recruited directly from ITS include Arup, Mott MacDonald, AECOM, Capita, Transpennine Express, Transport for London, Pell Frischmann, Leigh Fisher, JMP, Amey and Hyder among many others.
Read more about Graduate Employability at the Institute for Transport Studies.
Graduate destinations
A degree from ITS opens up a range of opportunities to develop a challenging and rewarding career. Transport consultancies are the largest employers of ITS graduates, but other common careers include those in government, academia, regulatory bodies, transport operators, logistics companies, not-for-profit and international agencies.
ITS graduates work across the private and public sectors. Many work abroad, whether for UK companies with overseas offices, for international organisations or for national governments.
Careers support
You'll be provided with a wide range of support geared towards helping you secure the right employment after graduation.
Each year there are a number of events provided both by ITS and the University's Careers Centre. We have a dedicated Careers Consultant from the Careers Centre who works with ITS students, delivering bespoke presentations and one-to-one consultations with students on their career plans.
We also invite former students back to ITS to share their experiences of developing a career in the transport sector.
Find out more about Employability at ITS
We encourage you to prepare for your career from day one. That's one of the reasons Leeds graduates are so sought after by employers.
The Careers Centre and staff in your faculty provide a range of help and advice to help you plan your career and make well-informed decisions along the way, even after you graduate. Find out more at the Careers website.
Field trips
Transport at ITS is an applied subject. We offer plenty of opportunities for students to experience transport systems in action, both within the UK and Europe, allowing you to meet and hear directly from transport professionals and see what you've learned in practice.

For many of our students, the highlight of their year is the European Field Trip. This week-long trip which takes place after the summer exams and has been a fixture in the ITS calendar since 1987. The itinerary varies from year to year, but has often included Belgium, The Netherlands and Germany.

Stops en-route have included Pedestrian Centres and Docklands Transport in Rotterdam; Cycle and Traffic Calming Facilities in Delft; the Motorway Traffic Control Centre in Amsterdam; the Guided Bus System in Essen; the Wuppertal Monorail; Town Planning features in Duisburg and Dusseldorf; research talks at the University of Hasselt, and visit to the Brussels Metro.